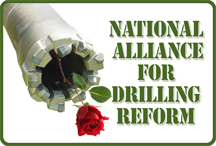 We're back from the holidays!

Gathering Line
- a special pipeline that transports gas from the field to the main pipeline.
The Gathering Line
is a round-up of oil & gas drilling news brought to you by
National Alliance for Drilling Reform
(NA4DR), a broad alliance of grassroots activists from states across the nation that are affected with drilling development.
Another Pipeline Rupture!
!! We can be thankful that only the soil is contaminated!
Read it at Cheap Tricks and Costly Truths
.
Texas is the first
state to conduct testing of citizens to determine if their health symptoms are caused from exposure to drilling toxins. But
TXsharon
is not sure this is such a great idea. Find out why on
Bluedaze: DRILLING REFORM FOR TEXAS
.
Gas leasing in upstate NY has become the
number one land use issue
. The access roads and pipeline right-of-ways that accompany development threaten to fragment the agricultural landscape. Read more at
Marcellus Effect
.

Citizens for Environmental Clean-Up
reported on the
TCEQ water discharge hearing
.
Flower Mound amends Oil and Gas Ordinance to prohibit seismic testing on public roads and right-a-ways
read about it at
www.stopthedrilling.blogspot.com